After 33 Turkish soldiers lost their lives in Idlib region of Syria, Turkey declared on 27th February 2020, that the refugees could not be prevented to go to Europe. Simultaneously, the regime of AKP-MHP transported the refugees in Turkey to the border region in Edirne, Canakkale and Izmir. Upon this announcement, thousands of refugees from different cities all over Turkey have begun to go to Pazarkule Border Gate with the hope that they can get out of the inhuman conditions they are in. While the mainstream media and Minister of Internal Affairs are giving unreal numbers to make the number of refugees who go to the border gates increase, the government does not accept the refugees who want to get out of the buffer zone in Pazarkule at the border between Turkey and Greece and to come back to Turkey. 
That must be asked first: Why do the refugees who escaped from war, death and poverty and had to take refuge in Turkey want to escape from here? 
Because, even though it is not certain what it will bring, going to Europe for the refugees who cannot reach at the most basic rights such as health, education or working, who have problems like exclusion, marginalisation or poverty even if they reach some basic rights and who provide their basic needs scarcely or cannot have any of them is "an excellent dream". The refugees who have taken refuge to Turkey haven't got the refugee status described in international law. They don't have humanistic harbouring conditions. They have to live in the same flat with 15-20 people and 3 or 4 families.  They cannot benefit even from the most basic health services. They cannot take their medicine and some openly wait to die. As they don't have work permit, they work uninsured and unsecured condtions with earnings far under life salary. As they do not have any registry, they cannot object to any injustice in their workplaces where they have been exploited, they have to face racist discourses and they are under the threat of fascist assaults. They are like modern slaves who work during the day and the night in aggravated circumstances without any humanistic opportunities.  The refugees are trying to escape from Turkey to get rid of these inhumane conditions by taking risks such as losing their lives while crossing Aegean Sea or Maritza, being shot by the security forces or dying by exposure.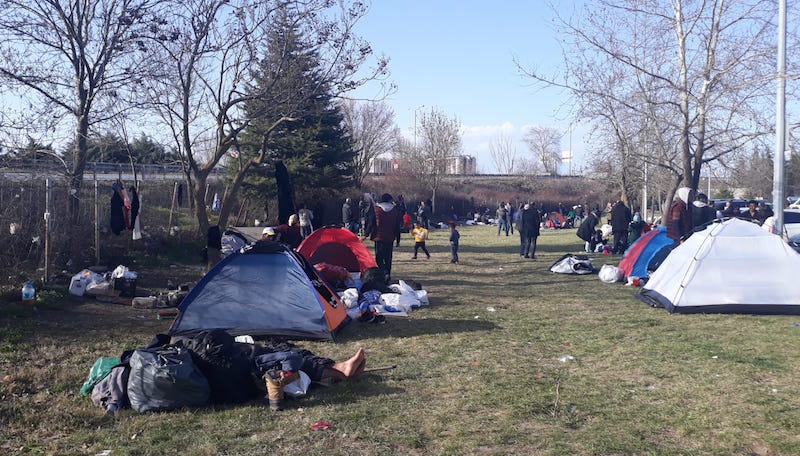 On the other hand, civil deaths are occurring in the conflicts going on because of Turkey's expansionist and warrior policies in Idlib and even hospitals are targeted. The rights to live of the civils that are guaranteed to be protected even during war under the international agreements and access right to health services of all people including non-civil people have been ignored. Turkey hasn't opened its border for the 800 thousand civil Syrian survivors waiting at the Turkey-Syria border zone because of the conflicts in Idlib for which Turkey itself is responsible, too. It takes any responsibility of neither Turkish soldiers' losing their lives nor the local people's massacre. AKP-MHP regime is trying to hide its expansionist goals and its support for the jihadist gangs in Idlib under the discourse of "national matter". They announce everybody who does not support the war policy as "traitor". They send the poor young people to death. For what? To support the jihadist terrorist organizations in the middle of Syria!
Greek Government has been spreading hatred and fear through Europe and Greece with the myth of "the occupation of the illegal immigrants" that has been triggered by Erdogan's explanations. The refugees having gone to the border has been prevented in various ways by The Greek police officers for days.  While they have been exposed to gas bombs continuously, lots of refugees who attempt to enter in Europe across Maritza by boats are being sent to Turkey back or arrested after torture and maltreating.  4 refugees died on boat that sank and 3 were shot by a Greek police officer. While both EU and Turkey are responsible for the results of the refugee policies that are used as the political blackmail, only refugees bear them.
President Erdogan is going on promising death to the people by saying "Hill of the Martyrs won't be empty." He also makes his promise repeated by Tansu Ciller who is one of the master builders of 90s that was full of unidentified murders, burning down of Kurdish villages and massacres. This promise is coming true with the deaths of the soldiers in Syria. The respond of the government against the society and democratic opposition's democratic reaction and anger saying "What are we doing here?" is pressure, bans and detentions.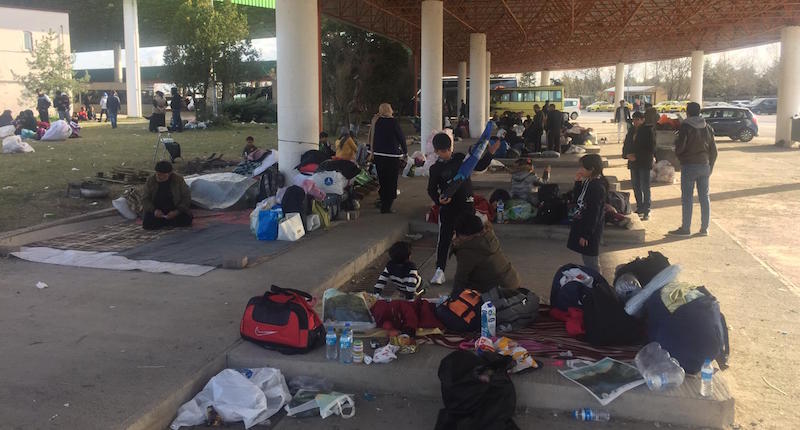 We, as Peoples' Democratic Congress, want the Syria war to stop as soon as possible and want peace to be established there with the free wills of the Syrian people. We demand that no refugee should be forced to come back, their access to their rights should be guaranteed and consequently refugee rights should be valid everywhere and in every condition.
The refugees waiting at the border have vital problems of nutrition, shelter and health. Their most basic needs should be provided at first.  Their rights should be obeyed under refugee law in Turkey.  The most basic rights such as education, shelter and working should be guaranteed. The gates shut by EU and Greece against the refugees escaping from death should be opened immediately. Refugees must be rejected to be a means of political bargain and the humane crisis should be solved. Then it is a must to make policies and practices about equality and against discrimination towards all the fractions living in Turkey real in every part of the society and every step to reach the rights.
We, as HDK, have always said that: No matter what their race, religion, nationality, membership of a social group or political view is, everybody has the right to live honourably and this right must be preserved in every condition.  We want to remind again that nobody's right to live can be attacked and everybody should reach to humane life conditions equally. Societies should share the responsibility of the crisis more to avoid policies and practices that will leave people under risk and to develop permanent solutions for the refugees.
We are insisting on peace. We say the borders kill and they should be opened. We are aware of that democratic opposition is responsible for showing up of the people's transnational will and organizing immediate solidarity.  Without any doubt, the lives of refugees cannot be left to the consciences of the states and to their bargains. We either establish an honourable solidarity or immediately, at Pazarkule border, throw all the values that have been carried to today by the humanity with great efforts. Time to choose!
PEOPLES' DEMOCRATIC CONGRESS
CENTRAL EXECUTIVE BOARD